Garst Museum – Darke County, Ohio
Also in our visit to Darke County, Ohio, we visited the Garst Museum.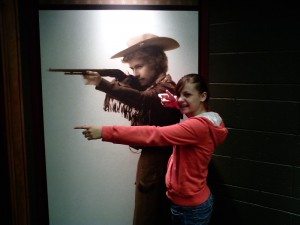 The museum had an entire section devoted to its hometown hero Annie Oakley. There were all types of artifacts from her life, even down to her chinaware and nightgown. There were guns that she had used and many publicity posters from the Wild West Show. There was also a case of Annie Oakley-inspired memorablilia. I was surprised at all of the books, even modern books, that featured Annie. It amazes me how writers can find so much to write about with these historical figures and when that wasn't enough, they could bring that character into modern times and create all new adventures. Learn more about Annie Oakley.
Until visiting the Garst Museum in Greenville, Ohio, I had never heard of Lowell Thomas. And on top of that, I always thought Lawrence of Arabia was a fictional person. Boy was I wrong. I even had my picture taken next to a manaquin of Lawrence of Arabia because I felt so ignorant about this great man. Lowell Thomas was great himself. Learn more about Thomas.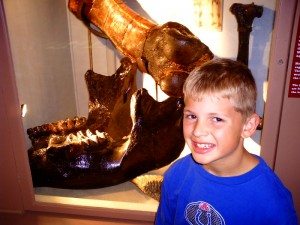 I've spent a lot of time talking about all of the sights we visited, but there's one more thing I want to say about the Garst Museum. The museum also took the history back to ice age times. There was even the fossils of a mastedon. I had Kaleb pose by them just to show how big the mastedon's jaw was.
The following is from a pamphlet provided by the museum:
The first people here were nomadic hunters called Paleo-Indians who left flint spear points and tools. Glaciers receded and the climate warmed as people of the Archaic Tradition settled more, cultivated plants, ground seeds and invented the atlatl. Glacial Kame Indians had complex funeral ceremonies and more extensive trade.
As a writer, everything becomes grist for the mill. You pour as much knowledge as you can into your head so you can use that knowledge to make your writing better. To write historical pieces, you need to see it, experience it, and see the interlocked connections of culture, environment, and history. There are stories on every corner, and when you are learning about the past, or experiencing new places, you have added to that great filing cabinet in your head. As I've said before, you need to take advantage of the historical places around you and learn as much as possible. Use that knowledge to create more in-depth works. And besides that, this trip was a time we won't forget.