Tecumseh! Outdoor Drama in Chillicothe, Ohio
In 1811 Tecumseh spoke these words to the Choctaw Council – "The annihilation of our race is at hand unless we unite in one common cause against the common foe. Think not that you can remain passive and indifferent to the common danger, and thus escape the common fate. Your people, too, will soon be as falling leaves and scattering clouds before their blighting breath. You too will be driven away from your native land and ancient domains as leaves are driven before the wintry storms . . . Let us form one body, one heart, and defend to the last warrior our country, our liberty, and the graves of our fathers."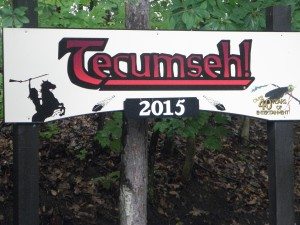 The life of this great Shawnee leader comes to life every summer in Chillicothe, Ohio. The outdoor drama Tecumseh! iis a must see for everyone. Not only do you get to learn about the Indian wars of the Ohio and Indiana areas, but you get a deep appreciation for the Shawnee tribe and others as you see what happened through their eyes.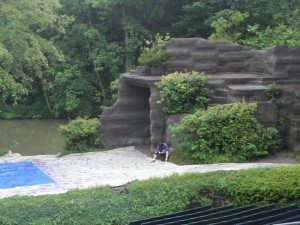 The play is presented by the Scioto Society, Inc. "The Scioto Society was founded in May of 1970 with the goal of fostering cultural, historical, educational, and economic development in the Southern Ohio region through Theatre and the Performance Arts" (play program). Their first mission was to operate the Outdoor Drama Tecumseh!. After finding the appropriate land and building the theatre and attendant areas, the play opened in 1973.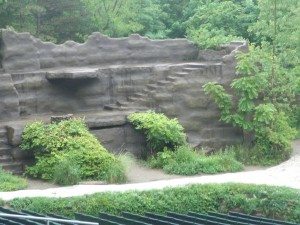 The drama was written by historian and novelist, seven-time Pulitzer Prize nominee, and Emmy Award winner Allan W. Eckert. The musical score was written by Carl T. Fischer, arranged by Victor Young and Frankie Laine, and performed by the London Symphony Orchestra. (Yes, the same orchestra that performed the Star Wars soundtrack as well as numerous others.) There is some narration in the play as an older Shawnee tells two young people about Tecumseh. The narrator uses sign language as Graham Greene's voice flows from the sound system. (Yes, the same Graham Greene that was in Dances with Wolves, The Green Mile, and Twilight Saga: New Moon.)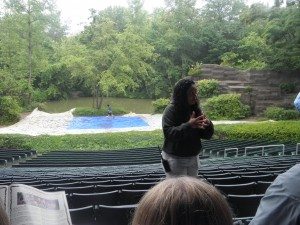 We signed up for the backstage tour, but because of the heavy rain, we weren't allowed into the backstage areas. Even though we didn't get to see that part of Sugarloaf Mountain Amphitheatre, the five extra dollars was worth the history and demonstrations by some of the actors. Edmarie Montes was our guide. Not only did she provide us with a lot of information, she told us about the horses in the performance and how well they are trained. There was even an incident in season past when an actor wasn't on the horse in time for the cue. The horse went on stage with the actor, stood on its spot, and left at the appropriate cue. The horses are trained by TC Performance Horses and were a fascinating part of the show. She was in her second season with Tecumseh! She is a graduate of the University of Central Florida with a BFA in Acting. She is an accomplished actress and poet from Orlando, FL. She did an excellent job in her portrayal of Melassa Tequi, a Shawnee woman.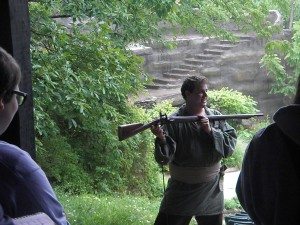 Harry McEnerny V demonstrated the stage guns for us. I wish I had taken notes to share with you because it was very interesting, but I did record some video, which is posted on my Youtube channel.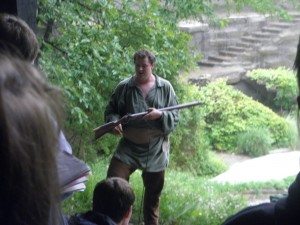 Harry McEnerny is from Middlebury, VT. He is currently a member of the Professional Actors Traning Program at the University of Houston, where he will graduate with his M.F.A. in May of 2016. He is workshopping a new musical directed by Charles Randoph-Wright (Director of Motown on Broadway), with musical direction by gospel legend Bebe Winans. Learn more about McEnerny. (www.harrymcenerny.com)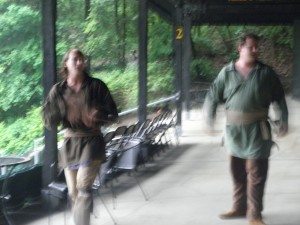 Then Daniel Sukup joined McEnerny for stage combat demonstrations, which were both entertaining and intriguing. They showed us combat with Shawnee weapons, hand-to-hand combat, and even a kick to the crotch. They even explained the importance of a low, balanced stance, just like I tell my basketball and softball players. Also, Sukup performs the biggest stunt of the play in the opening scene. He told us what to watch for, how it works, and the importance of his technique. Here is some video of their demonstrations.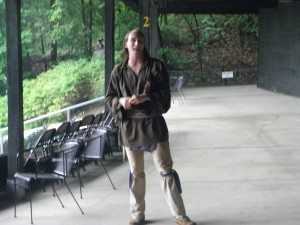 Daniel Sukup is from Honey Creek, IA. He finished his higher education at Lindenwood University, where he obtained a BFA in Action and Technical Theatre, with a minor in dance. You can learn more about Daniel here.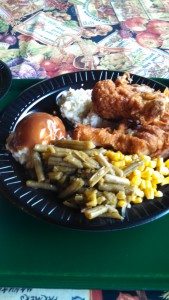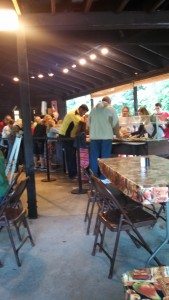 After the tour we were off to the Terrace Buffet for dinner. In one word – amazing. There was a little bit for everyone. There was a full salad bar, cole slaw, fried chicken, mashed potatoes, corn, green beans, rolls, chocolate pudding, and a cobbler. There were also Pepsi products. No one went away hungry, even though the smell of popcorn compelled us to buy a bucket to snack on during the show.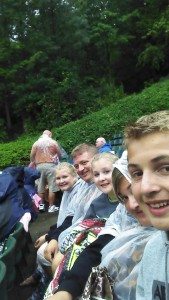 The show goes on in all kinds of weather, and with impending rain, we (and almost everyone else) had our ponchos on and ready to start the show. There is no photography during the show, so I don't have any pictures. The show was amazing and brought back many memories from when I saw it 25 years earlier. The performances were absolutely stunning and the actors were top quality. They made us hurt for the Native Americans that knew they couldn't trust the government and their treaties but had no choice but to sign. And to think that Tecumseh was very close to uniting the tribes to push the government back to the Alleghany Mountains. Had he succeeded, how different would our history be? Would there today be numerous nations in North America? Can we really claim God's will in the displacement and often destruction of other cultures? Like it or not, this is our history – one that we must embrace and learn from, not sweep it under the rug.
I wish I had pictures from the show to share, but photography isn't allowed and any pictures that are out there have copyrights. But there is a commercial that aired in 2014 that you can watch. And you can learn more about the production from Discover Ohio.