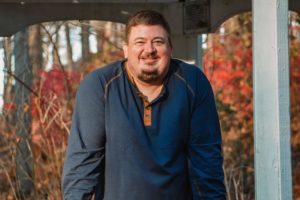 Sean Slagle was born and raised in Kentucky. The family moved around Kentucky a few times during Slagle's childhood due to his father's career as a minister. They lived in Monticello, Albany, Harrodsburg, and Science Hill. After graduating from Somerset High School, Slagle went to Campbellsville College for two years and studied journalism and theater. But even then, he knew he wanted to be an author. He transferred to Somerset Community College for one semester, where he studied broadcasting and had a radio show on the campus station.
In 1990 he followed his parents to Indiana and graduated from Indiana University East with a Bachelor of Arts in English. He continued to practice his writing while working various and, at time, multiple jobs, selling electronics, waiting tables, and working in a factory. He then went to graduate school at Ball State University and earned a Master of Arts in Secondary Education. While a teacher, he has served as a basketball coach, softball coach, track coach, and drama director. He was also an adjunct professor at Indiana Wesleyan University for ten years.
All along his journey, Slagle continued to write. He published numerous pieces in magazines and webzines. Some of his most notable short works include "A Light in the Darkness," "Enticed," and "The Inheritance," as well as the story series A PORTRAIT OF THE HEARTLAND. He is also the author of the A DIRGE FOR THE MALICE series.
He has written and produced various drama productions, including A Primetime Christmas, Poems of the Passion, Sleepy Hollow High School, Do You Believe in Miracles, and A Socialite Christmas.