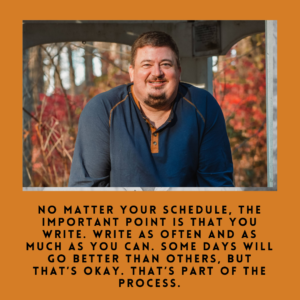 If you want to be a great writer, you have to have some type of writing routine. It may not seem like a lot to write, let's say, two hours a day. Do that for five days a week and you have 10 hours at the end of the week. At the end of the month you have worked 40 hours on your writing. You can get a lot done in 40 hours.  
Being a full-time educator, my writing routine differs depending on the time of year. During breaks, I am able to work in the mornings. I like to eat breakfast and then be at my desk by nine and write until twelve-thirty or one. Then after lunch, I workout and return to my desk for another hour or two. While school is in session, I work a lot on weekends and late at night after everyone has gone to bed. If I can get an hour or two in a day, I am happy.
One key point is to not get thrown out of your creative process if something interferes with your time. Most writers will say that you must guard your writing time and not let anything get in the way, but for those of us with full-time, non-writing jobs and families and other commitments, it's best to live in reality and realize that life happens, and it's okay. Roll with the changes (thank you, REO Speedwagon). Keep writing as often as you can. Feed that creative hunger inside of you.