Top 20 Songs for October 31, 1986
Since A Dirge begins with Halloween 1986, I thought it would be fun to take a look at what was going on in the culture during that time.  For the Top 20 songs on October 31, I actually chose the new list which came out the following day in 1986.  That would show what the top songs were for that week.  I used the listing found on Tunecaster.  So, let's see what was probably playing when the characters turned on the radio.
20. Girl Can't Help It by Journey
19. Word Up by Cameo
18. Love Will Conquer All by Lionel Ritchie
17. Wild Wild Life by Talking Heads
16. The Way It Is by Bruce Hornsby and the Range
15. Typical Male by Tina Turner
14. When I Think of You by Janet Jackson
13. Emotion in Motion by Ric Ocasek
12. I Am By Your Side by Corey Hart
11. I'll Be Over You by Toto
10. The Next Time I Fall by Peter Cetera with Amy Grant
09. True Blue by Madonna
08. The Rain by Oren Juice Jones
07. True Colors by Cyndi Lauper
06. Amanda by Boston
05. I Didn't Mean to Turn You On by Robert Palmer
04. You Give Love a Bad Name by Bon Jovi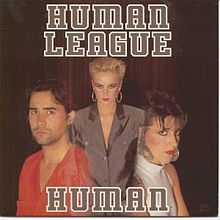 03. Sweet Love by Anita Baker
02. Take Me Home Tonight by Eddie Money
(drum roll)
01. Human by The Human League
How many of the songs on the list do you remember?