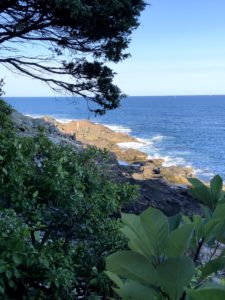 On our first full day in Maine, we made our way to the Marginal Way in Ogunquit, which seemed to be the destination of everyone else in southern Maine. The traffic crawled, the parking lots were full, and it was too late in the day to pay for the trolley. We turned around and spent time riding go-carts and playing putt-putt at Wonder Mountain Fun Park.
By the time we made it back to the waterfront, we found a parking spot for $20. Then we made our way to the Marginal Way. This paved walkway stretches along the coast for close to one and a fourth miles. It goes from Spark Hawk and Anchorage to Perkins Cove.
However, before we could start on such a beautiful walk, we need to fuel up. And we found the perfect place – Barnacle Billy's? I had been craving lobster since we first planned our trip, so I ordered one at the very first restaurant, and it didn't disappoint! I had a fresh, soft-shell lobster served with coleslaw and fries, while Brooke had the clams.
Now it was time for the short hike. The shoreline along the Marginal Way was one of the most beautiful areas we saw while in Maine. This will be a must stop for us on future trips to Maine. The pictures speak for themselves.
And in a place like this – I had to do whatever it took to get the perfect picture.