Still Dying 2 (anthology)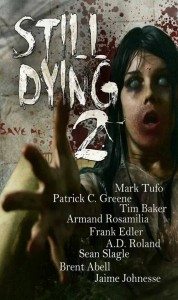 Nine authors… Ten stories… nothing but zombie horror!
Dying Days creator Armand Rosamilia invited eight incredible authors to set foot in his world, and the results are creepy and the anthology a page-turner. Enter this zombie apocalypse… if you dare.
Adult-content rating: This book contains content considered unsuitable for young readers 17 and under, and which may be offensive to some readers of all ages.
Here is a list of the stories included in this anthology:
How Me And Bozy Became Dads by Patrick C. Greene
A road side inmate clean-up crew find themselves caught in the middle just as a plague takes hold of the city. Small time hoods Randall and Bozy find freedom—which just became worse than imprisonment.
Gator Aid by Frank Edler
Can a popular Floridian tourist trap survive and thrive as an attraction during the end of civilization?
The Trap Line by Sean Slagle
Spencer, his sister, and her boyfriend have been hiding safely in a hunting cabin since the beginning of the apocalypse. But all of that changes when another family of survivors shows up.
Dying Days: Television by Armand Rosamilia
What's more important than television, even during the end of the world?
Flight 509 by Jaime Johnesee
A man is stuck on a plane during the ZA and has no clue how to get out alive.
The Old Man And The Apocalypse by A.D. Roland
He just wanted to live out the rest of his days in peace. With the walking dead stumbling around his retirement community, it wasn't too easy to do that, but he'd managed. An unexpected visitor reminds him, though, that sometimes life isn't just about waiting to die.
The Happiest Kingdom On Earth by Brent Abell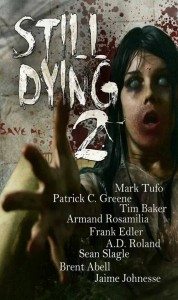 Two men trying to stay alive in a zombie ravaged world find a group of survivors who have taken refuge in Florida's premiere tourist attraction and find out how high the price of admission can be to stay in the "Happiest Kingdom on Earth".
Dying Days: Stew by Armand Rosamilia
Stew and his dog Orion are just trying to scavenge in a restaurant when things get tricky. Can they survive a zombie attack and find hot dogs for Orion?
Lucifer's Revenge by Mark Tufo
A monsignor reluctantly finds himself in the midst of a zombie apocalypse.
Dying Days: Angel by Tim Baker
Angel Godwin must escape her own home or be taken by zombies.
Purchase your copy now a Amazon.com.