The Story Behind the Stories – A Light in the Darkness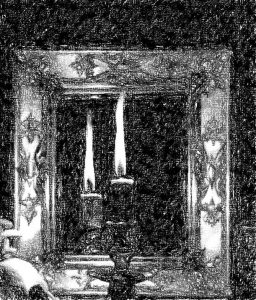 While doing some research in 2004, I came across the basilisk, a mythological reptile that can cause death with just a look and can breath fire. I found many Biblical and literary references to this creature, such as Isaiah 14, Psalm 91, The Canterbury Tales, Richard III, and in the works of many poets. I wasn't a big Harry Potter fan, so I didn't realize that the basilisk showed up in Harry Potter and the Chamber of Secrets.
I began to wonder how this basilisk would present itself today, and it became a symbol for Satan in "A Light in the Darkness" as it tries to destroy Victor in the fire. The story became an allegory for our need of salvation through Christ and our need to open the door of our hearts to let him in.
The story was picked up by Infuze Magazine Online, which was an early Christian e-zine that highlighted Christian artists and authors, trends and events. The story was published on April 21, 2005. Read about Infuze's Legacy. Julie Anne Fidler, Infuze Creative Works Editor at the time, wrote in the acceptance letter, "I really enjoyed your use of symbolism. Loved the 'ask, seek, knock' references."
"A Light in the Darkness" is the lead story in the short story collection A Light in the Darkness and Other Stories. You can purchase the book online, or at a book signing, or through personal correspondence. Be sure to let me know what you think of the story in the comment section below.