A Dirge for the Malice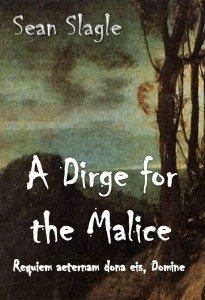 The 2013 debut novel by Sean Slagle speaks to readers of all ages as they get caught up in 80s nostalgia and the race against time to stop a curse that brings havoc upon the small town.
In 1986 Halloween in Science Hill, Kentucky is like a holiday for the residents. There's a town parade, trick-or-treating, lots of mischief and plenty of parties. But sometimes the things that happen have eternal consequences, especially tempting the dark powers of Witch's Cave, a place that can make the desires of the heart come true.
Reader's Reviews:
"Excellent Book! A must Read! From the minute I opened the book, I had become so involved with the story that I could not put it down. Loved it! Cannot wait for the next book! I have become a Fan of Sean Slagle writing. 2 thumbs up for sure!"
"This book was amazing. I am an avid suspense/thriller fiction reader and was told of this book by my daughter who has Mr. Slagle for English. I was hooked after meeting the characters, and by the hometown setting. I grew up in the 80's, and though not Kentucky born, this story could have totally taken place in my neighborhood! It's truly a story about rash decisions, the 'infinite wisdom' of teenagers, the naïveté of kids, and the adult results of this mix. When the author wove in the tale of the witches cave . . . all heck broke loose!"
"One of the best books I have ever read. The story grabbed me from the beginning and I couldn't put it down. I bought 3 more copies to give as Christmas gifts and I recommend this book to everyone."
"I ordered this book for my husband, thinking since he grew up in Science Hill, KY, he would enjoy it. The day it came in the mail, I immediately started reading it, just out of curiosity. After the first 2 chapters, I was hooked. I couldn't put it down! I am not originally from Science Hill but through my husband I have heard many, many stories. I could imagine my husband and his buddies as the characters in the book. I would recommend this book to anyone, 'Science-Hillian' or not. You will enjoy it!"
"I could not put the book down; I finished it in two days. I found myself caring about and connecting with the characters. When I got the end of the book I was saddened to see it end. I really wanted the story to keep going because I was not ready to put the book down. I would recommend this book to everyone I know."